"Paul to Rome"
Acts 27-28
Introduction 27:1–12
.
Paul is given over to a centurion for the trip…
Acts 27:1–12 1 And when it was decided that we should sail to Italy, they delivered Paul and some other prisoners to one named Julius, a centurion of the Augustan Regiment. 2 So, entering a ship of Adramyttium, we put to sea, meaning to sail along the coasts of Asia.
.
"We" appears for the first time since 21:18. Luke however is clearly not one of the other prisoners. "Paul and some other prisoners."
.
Luke simply refuses to abandon Paul, as does one other traveling companion that we've seen before…
…v2…Aristarchus, a Macedonian of Thessalonica, was with us.
Who was Aristarchus?
.
This centurion is a great man..
3 And the next day we landed at Sidon. And Julius treated Paul kindly and gave him liberty to go to his friends and receive care.
And so Paul is surrounded by Christian friends on this trip.
.
4 When we had put to sea from there, we sailed under the shelter of Cyprus, because the winds were contrary.
The winds were against those in the ship. They were not able to head directly for Rome because the headwinds. They first sailed north along the coast of Cyprus. That land mass protected them from those winds.
.
5 And when we had sailed over the sea which is off Cilicia and Pamphylia, we came to Myra, a city of Lycia.
They go out over the "open sea" ESV. Map…Paul had previously landed in this area, near Patara Acts 21:1.
.
.
.
.
6 There (in Myra) the centurion found an Alexandrian ship sailing to Italy, and he put us on board.
.
This was likely a ship transporting grain from Egypt.
.
Bad weather continues to hinder their progress…
.
7 When we had sailed slowly many days, and arrived with difficulty off Cnidus, the wind not permitting us to proceed, we sailed under the shelter of Crete off Salmone. (NE tip of Crete) 8 Passing it with difficulty, we came to a place called Fair Havens, near the city of Lasea. 9 Now when much time had been spent, and sailing was now dangerous because the Fast was already over
Luke marks the time here in reference to the Jewish calendar. The fast here refers to the day of atonement, the first day of Fall.
.
In the winter, the Mediterranean Sea has severe weather. Makes traveling by sea nearly impossible.
.
Paul, even though on his way to Rome, is still an apostle…Paul's words and deeds prove it. First his words….
.
Paul advised them, 10 saying, "Men, I perceive that this voyage will end with disaster and much loss, not only of the cargo and ship, but also our lives." [His words go unheaded…listen to Paul!!] 11 Nevertheless the centurion was more persuaded by the helmsman and the owner of the ship than by the things spoken by Paul. 12 And because the harbor was not suitable to winter in [for whatever reason], the majority advised to set sail from there also, if by any means [Greek: remote possibility] they could reach Phoenix, a harbor of Crete opening toward the southwest and northwest [unsure where is; they don't make it.], and winter there.
.
.
.
Story of the storm at sea (27:13–38)
Well, they start out well here…
Acts 27:13–38 13 When the south wind blew softly, supposing that they had obtained their desire, putting out to sea, they sailed close by Crete.
.
But it wasn't long for that gentle wind to shift…
.
14 But not long after, a tempestuous head wind arose, called Euroclydon.
Or a nor'easter (north-east-er).
.
15 So when the ship was caught, and could not head into the wind, we let her drive.
They just let her go! Which was not uncommon.
.
16 And running under the shelter of an island called Clauda, we secured the skiff with difficulty. 17 When they had taken it on board, they used cables to undergird the ship;
.
Not easy. The skiff or lifeboat was being towed behind the ship, likely, was taken into the ship to avoid it being damaged or lost. The ropes were used, evidently, to keep the ship from breaking apart from the waves.
.
v.17…Since they were…fearing lest they should run aground on the Syrtis Sands, they struck sail and so were driven.
.
NASB Acts 27:17 … fearing that they might run aground on the shallows of Syrtis, they let down the sea anchor and in this way let themselves be driven along.
.
They let down the sail? and take down the mast?, and likely drop a dragging anchor? to keep the speed down as far as possible.
.
During the next two days, the crew lightens the ship load… First by throwing over cargo and then the tackle.
.
18 And because we were exceedingly tempest-tossed, the next day they lightened the ship. 19 On the third day we threw the ship's tackle overboard with our own hands.
.
The sailors begin to lose hope…
.
20 Now when neither sun nor stars appeared for many days, and no small tempest beat on us, all hope that we would be saved was finally given up.
.
Thus, Paul's perceptions are coming true.
.
Luke now reports their fast…,
.
21 But after long abstinence from food,
.
.
…Not for lack of food or religious reasons, but more likely due to seasickness, fear, or simply always fighting the storm…
.
then Paul stood in the midst of them and said, "Men, you should have listened to me, and not have sailed from Crete and incurred this disaster and loss.
.
I told you so! But he also desires to encourage…
.
22 And now I urge you to take heart, for there will be no loss of life among you, but only of the ship. [the good news]
.
How does he know this? The last vision…
23 For there stood by me this night an angel of the God to whom I belong and whom I serve, 24 saying, 'Do not be afraid, Paul; you must be brought before Caesar; and indeed God has granted you all those who sail with you.'
.
Here again we have another "necessity" in Paul's life. He must be brought before Caesar. No doubt he will be, but we will not hear about that in the book of Acts.
.
.
Paul rightly responds…
25 Therefore take heart, men, for I believe God that it will be just as it was told me.
Paul believes God. APP: trust in what He says.
.
Luke 1:45 45 Blessed is she who believed, for there will be a fulfillment of those things which were told her from the Lord."
Luke 2:20 20 Then the shepherds returned, glorifying and praising God for all the things that they had heard and seen, as it was told them.
Luke 22:13 13 So they went and found it just as He had said to them, and they prepared the Passover.
.
Paul ends with the bad news…
.
26 However, we must run aground on a certain island."
Paul knows that they will run aground on an island via the prophecy.
.
Fast forward…
27 Now when the fourteenth night had come, as we were driven up and down in the Adriatic Sea, about midnight the sailors sensed that they were drawing near some land. [different wave patterns gave them that clue?] 28 And they took soundings [depth] and found it to be twenty fathoms (120 feet down); and when they had gone a little farther, they took soundings again and found it to be fifteen fathoms (90 feet).
.
"sounding" does not refer to sound. Basically, stick a heavy thing on a rope and put in the water and measure it.
.
From wikipedia…
.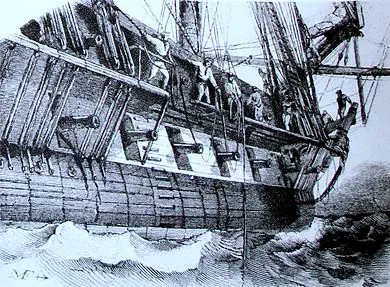 .
.
.
.
.
.
.
.
.
.
.
.
.
.
Time to slow down!!!
29 Then, fearing lest we should run aground on the rocks, they dropped four anchors from the stern, and prayed [better, wished] for day to come.
.
Besides, would praying speed it up? Perhaps for daylight, so that it wasn't so dark. But the sailors now attempt to take matters into their own hands.
.
30 And as the sailors were seeking to escape from the ship, when they had let down the skiff into the sea, under pretense of putting out anchors from the prow,[bow]
.
NIV Acts 27:30 In an attempt to escape from the ship, the sailors let the lifeboat down into the sea, pretending they were going to lower some anchors from the bow.
.
So they attempt to deceive…. They attempt to escape from the ship not wanting anyone to know, and they covered it up by pretending they were going to lower some anchors from the bow.
.
But this does not fool Paul…
.
31 Paul said to the centurion and the soldiers, "Unless these men stay in the ship, you cannot be saved."
.
For the third time here Paul speaks about the ship and the sailors. See 27:10, 21–26.
.
.
.
32 Then the soldiers cut away the ropes of the skiff [lifeboat] and let it fall off.
That's the easiest way to make sure that the crew will remain with the ship.
.
The fourth prophecy of Paul…
.
33 And as day was about to dawn, Paul implored them all to take food, saying, "Today is the fourteenth day you have waited and continued without food, and eaten nothing. 34 Therefore I urge you to take nourishment, for this is for your survival, since not a hair will fall from the head of any of you."
In the midst of the storm and crisis, Paul remains calm as he considers everybody else's lives being in danger. He trusts God and remains calm.
.
2 week fast? Really? Whether real or an exaggeration…I mean, it's not like a hair won't fall…we have hairs falling all the time… At any rate, they need to eat to survive. His command to eat is based on his prediction that no one will be harmed. "Take nourishment, since you will not be harmed."
.
And so…
35 And when he had said these things, he took bread and gave thanks to God in the presence of them all; and when he had broken it he began to eat. [Paul eats first…] 36 Then they were all encouraged, and also took food themselves.[they follow] 37 And in all we were two hundred and seventy-six persons on the ship.
.
276, an exact number, an eyewitness account. Luke reports…
38 So when they had eaten enough, they lightened the ship and threw out the wheat into the sea.
.
The wheat must have been quite heavy.
.
Story of the shipwreck on Malta (27:39–44)
Acts 27:39–44 39 When it was day, they did not recognize the land; but they observed a bay with a beach, onto which they planned to run the ship if possible.
.
They don't not recognize the island yet as Malta.
.
So they take steps to run the ship aground…
40 And they let go the anchors and left them in the sea, meanwhile loosing the rudder ropes; and they hoisted the mainsail to the wind and made for shore.
.
They do not make it to the shore…
.
41 But striking a place where two seas met [a sand bar], they ran the ship aground; and the prow [bow] stuck fast and remained immovable, but the stern was being broken up by the violence of the waves.
.
Bow was stuck in the sand and the stern in the back was being broken up by the waves. The ship is lost, just like Paul predicted.
.
They must abandon ship now. Soldiers are responsible for escaped prisoners. So they desired to kill the prisoners…
.
42 And the soldiers' plan was to kill the prisoners, lest any of them should swim away and escape. 43 But the centurion, wanting to save Paul, kept them from their purpose, and commanded that those who could swim should jump overboard first [swimmers first] and get to land, 44 and the rest [nonswimmers], some on boards and some on parts of the ship. And so it was that they all escaped safely to land.
.
So the Lord fulfills his promise to Paul, authenticating Paul as a true apostle and his gospel as truth. Even when he is deemed a criminal, the Lord testifies of the true nature of who Paul is and of the gospel he preaches the God he serves.
.
Paul on Malta (Acts 28:1-10)
so they are delivered safely and are on the island of Malta.
.
Acts 28:1–10 1 Now when they had escaped, they then found out that the island was called Malta. 2 And the natives showed us unusual kindness; for they kindled a fire and made us all welcome, because of the rain that was falling and because of the cold.
.
Paul's vindication and the Gospels authentication continues…
.
3 But when Paul had gathered a bundle of sticks and laid them on the fire, a viper came out because of the heat, and fastened on his hand. 4 So when the natives saw the creature hanging from his hand, they said to one another, "No doubt this man is a murderer, whom, though he has escaped the sea, yet justice does not allow to live."
.
See NET on 'justice.' Who is the goddess "Justice?"
.
These pagans would have believed that nature and the animal kingdom were ways the gods administered justice.
.
Will Paul survive this? The natives do not think so since they think he is a murderer and deserves justice.
.
It takes a murderous snake to kill a murderer I suppose.
.
5 But he shook off the creature into the fire and suffered no harm. 6 However, they were expecting that he would swell up or suddenly fall down dead. But after they had looked for a long time and saw no harm come to him, they changed their minds and said that he was a god.
.
How quick they they change their mind pretty quickly! This reminds us of the scene at Lystra in Acts 14.
.
But clearly, Paul is not a god. He prays for Publius' father…he prays to God!
7 In that region there was an estate of the leading citizen of the island, whose name was Publius, who received us and entertained us courteously for three days.
.
Publius is likely a leading local magistrate.
.
8 And it happened that the father of Publius lay sick of a fever and dysentery. Paul went in to him and prayed, and he laid his hands on him and healed him. 9 So when this was done, the rest of those on the island who had diseases also came and were healed. [they don't worship him… He must've took his word that he was no god, but the servant of Jesus] 10 They also honored us in many ways; and when we departed, they provided such things as were necessary.
.
Paul's journey to Rome (28:11-16)
Acts 28:11–16 11 After three months [spring approaching…] we sailed in an Alexandrian ship whose figurehead was the Twin Brothers [Heavenly Twins], which had wintered at the island.
.
These brothers were Castor and Pollux, the twin sons of Zeus and Leda. This was carved onto the ship, because these were the gods of navigation.
.
12 And landing at Syracuse, we stayed three days. 13 From there we circled round and reached Rhegium. And after one day the south wind blew; and the next day we came to Puteoli, 14 where [in Puteoli] we found brethren, and were invited to stay with them seven days. And so we went toward Rome.
And so Acts 27:24 will come true…
.
.
They are again greeted by believers (like in 28:14)…
.
15 And from there, when the brethren heard about us, they came to meet us as far as Appii Forum/Market and Three Inns.
.
Luke doesn't comment about how these Christians came to be in Rome. Romans chapter 1 indicates Paul clearly had not found of the church. Ro. 16:3ff indicates that the church is thriving. Would've been 30 or 40 miles from these two places to Rome.
.
Paul is very pleased to see them…
v.15…When Paul saw them, he thanked God and took courage. [hmmm, Paul must be human…and not a god!] 16 Now when we came to Rome, the centurion delivered the prisoners to the captain of the guard; but Paul was permitted to dwell by himself with the soldier who guarded him.
.
Still chained. Paul is going to bear witness to the Emperor as a prisoner.
.
Paul in Rome (28:17-31)
the book ends not with Paul before Nero, not with Paul's martyrdom, but with Paul's discussion with Jews. This seems to be a mere continuation of his missionary journey. Go to the Jews first.
.
Paul with the Roman Jews #1(28:17–22)
Paul first discusses with the Jews Acts 22-26. Paul will speak and the Jews will respond.
.
Luke sets the scene…
Acts 28:17–22 17 And it came to pass after three days that Paul called the leaders of the Jews together. So when they had come together, he said to them: "Men and brethren, [claims to Jewishness] though I have done nothing against our people or the customs of our fathers [claim to innocence], yet I was delivered as a prisoner from Jerusalem into the hands of the Romans, 18 who, when they had examined me, wanted to let me go, because there was no cause for putting me to death.
.
Now, he's he's not coming to Rome to appear before Nero to accuse the Jews…
19 But when the Jews spoke against it, I was compelled to appeal to Caesar, not that I had anything of which to accuse my nation. 20 For this reason therefore I have called for you, to see you and speak with you, because for the hope of Israel I am bound with this chain."
.
Paul explains the reason why he is here is for the "hope of Israel." In other words, he is here because of his mission…the proclamation of the resurrection…Acts 23:6; 24:15; 26:6f; 27:20; 28:20. The resurrection is congruent with Jewish beliefs. And that the Messiah was to be raised is predicted in the OT.
.
.
.
Jews respond with a report of ignorance of what's going on with Paul…
21 Then they said to him, "We neither received letters from Judea concerning you, nor have any of the brethren who came reported or spoken any evil of you. 22 But we desire to hear from you what you think; for concerning this sect, we know that it is spoken against everywhere."
… But they have heard evil reports about the Christian faith.
.
Paul with the Roman Jews #2 (28:23–28)
So the Jews come back and he preaches to them. Luke gives us a summary statement.
.
Acts 28:23–28 23 So when they had appointed him a day, many came to him at his lodging, to whom he explained and solemnly testified of the kingdom of God, persuading them concerning Jesus from both the Law of Moses and the Prophets, from morning till evening.
.
And again we have similar response as in Paul's previous missionary journeys. Luke gives a report about some who are persuaded and how some resist. Finally he turns to the Gentiles. The message divides.
.
24 And some were persuaded by the things which were spoken, and some disbelieved. 25 So when they did not agree among themselves, they [began departing] …
.
Jews were still responding positively to the message, but they are not unified. God's people must be unified.
.
.
Paul says one last thing…v.25…
Paul had said one word: "The Holy Spirit spoke rightly through Isaiah the prophet to our fathers,
.
Quoting now Isa. 6:9-10…
.
26 saying, 'Go to this people and say: "Hearing you will hear, and shall not understand; And seeing you will see, and not perceive; 27 For the hearts of this people have grown dull. Their ears are hard of hearing, And their eyes they have closed, Lest they should see with their eyes and hear with their ears, Lest they should understand with their hearts and turn, So that I should heal them." '
.
This is true of the people. Luke alone and all the references to this verse in the New Testament includes this focus of going to the people. cf. Matt 13:14–15; Mark 4:12; John 12:40; Rom 11:8… This seems to be the declaration of the people now.
.
.
And so in verse 28 we see the shift to the Gentiles…
28 "Therefore let it be known to you that the salvation of God has been sent to the Gentiles, and they will hear it!"
.
v.29 not in oldest manuscripts …Acts 28:29 And when he had said these words, the Jews departed and had a great dispute among themselves.
.
Seems then with these verses that the focus is the Gentiles. God has moved from the focus of a largely Jewish movement now to a largely Gentile movement.
.
Because of their rejection, salvation is to be sent to the Gentiles.
.
.
Final summary statement (28:30–31)
Paul is arrested at his own expense and no one forbids his teaching and preaching.
.
Acts 28:30–31 30 Then Paul dwelt two whole years in his own rented house [at his own expense], and received all who came to him, 31 preaching the kingdom of God and teaching the things which concern the Lord Jesus Christ with all confidence, no one forbidding him.
.
This is a puzzling way to end it. Although we do have closure.
Acts 1:8 is accomplished (28:28); the Kingdom is preached; (compare 1:3,6 with 28:23,31).
.
Compare 1:1 with 28:31
.
Acts 1:1 1 The former account I made, O Theophilus, of all that Jesus began both to do and teach,
Acts 28:31 31 preaching the kingdom of God and teaching the things which concern the Lord Jesus Christ with all confidence, no one forbidding him.
.
But we are still in suspense. What happens to Paul? Mark ends similarly the short ending of Mark 6:8.
.
Chrysostom…"The author [Luke] conducts his narrative up to this point, and leaves the hearer thirsty so that he fills up the lack by himself through reflection" (Hom. Act. 15).
.
How would the audience be expected to "fill up the lack"? By continuing the story in my life.
.
What we do see as well is that the gospel has overcome human prejudice whether it be geographical, ethnic, theological, social, whatever…
.
With this final word we get a sense of an opening. A bright opening to the future that this end of the earth is not an arrival but a gateway to the rest of the mission of God. God will ensure that his gospel always remains unhindered and its triumph ever sure even when persecution reigns.
.
The gospel will continue but it's mission will only be completed as we who have studied this book take up the challenges found in it and then to take the word to the world. Even if chained, the gospel is unhindered!
.
A large Point: Paul vindicated, gospel authenticated, gospel unhindered.
.
Post?
Conservative scholars have argued that Paul was indeed released after two years, since the charges against him were groundless; that he possibly traveled to Spain as he had hoped (Rom 15:24, 28); that he returned to the east, visiting Crete (Ti 1:5), Ephesus and Macedonia (1 Tm 1:3), Miletus and Corinth (2 Tm 4:20), Troas (2 Tm 4:13), and Nicopolis (on the western coast of the Greek mainland, Ti 3:12); that he wrote 1 Timothy and Titus during this period of freedom; that finally he was imprisoned again after a.d. 64 (the year of the great fire in Rome, which led to the Neronian persecution of Christians); that he wrote 2 Timothy during this second imprisonment in Rome; and that he was decapitated under Nero between the years 65 and 67. Most likely, Paul was not yet 60 years old when he became a martyr for the faith.
This reconstruction of events is somewhat speculative, but it seems to account for the data more clearly than other suggestions. However, even if Paul was indeed released after the imprisonment described in Acts 28, it must be emphasized that almost nothing is known about his activities after such a release. In other words, the real significance of Paul's ministry must be deduced from the material actually found in the Book of Acts and in the major Pauline letters. God in his wisdom had determined that Paul would be "my chosen instrument to carry my name before the Gentiles and their kings and before the people of Israel. I will show him how much he must suffer for my name" (Acts 9:15, 16). The evidence is clear: Paul was obedient to the heavenly vision (26:19), and his ministry made possible the spread of the gospel to the ends of the earth.[1]
.
Go to BibleTrove.com Home Page from What is the Meaning of Acts 27.1-28.31
Go to New Testament Books Page
.
.
.
.
Walter A. Elwell and Barry J. Beitzel, Baker Encyclopedia of the Bible (Grand Rapids, MI: Baker Book House, 1988), 1633–1634. ↑